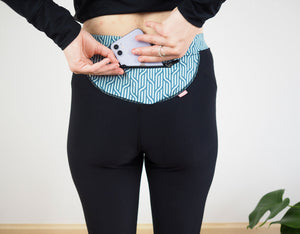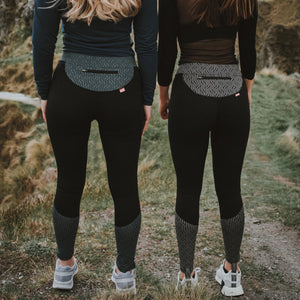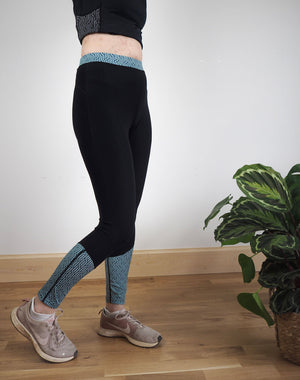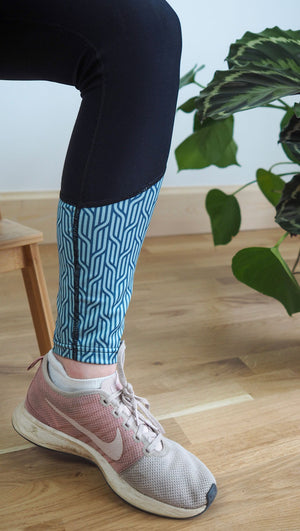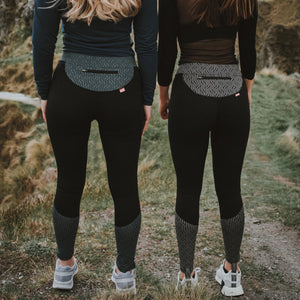 One Legging at a Time - Cool Blue
Use the code LEGGINGS5 for £5 off
Our new & improved leggings - Now made in the UK!
Looking for a new pair of leggings for the gym? Or perhaps, for your next adventure in the great outdoors? Our 'One Legging at a Time' leggings are just what you need. Whether you're in the gym, outside, walking the dog, whatever your vice, our high-waisted leggings are designed to not only provide comfort but do the job too. 
Made in the UK
Black & Cool Blue
High-waisted
Squatproof
Water repellent
Sweat-wicking
4-way stretch
A handy pocket suitable for your phone, headphones, and a sneaky jelly baby or two.
Reflective Dust & Pine logo
Size Guide
Clothing Size Chart (Measurements in CMs/inches)
XS
S
M
L
XL
UK Size
8
10
12
14
16
Waist
61/24

65/
26

69/27
73/29
77/30
Hips
92
93
94
95
96
Length
62
63.5
65
66.5
68
Doesn't fit or not sure what size to order?
If the fit is not perfect, return it within 28 days, as long as it's unworn, unwashed and unaltered. If you're unsure what size to order, please get in touch and we can help you find your perfect fit.
89% Nylon 11% Elastane
You can view our returns policy here
View full size guide here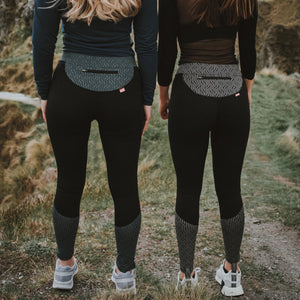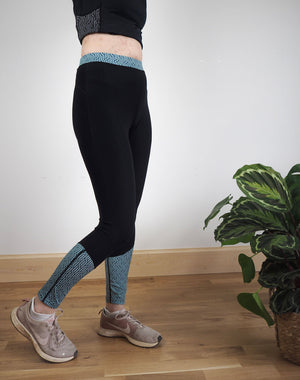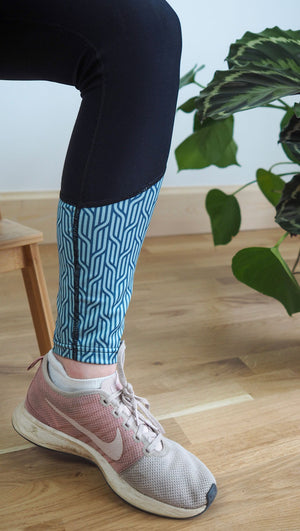 Great design!
This is my second pair of leggings from Dust and Pine and yet again I am not disappointed. The elastic is lovely on my post partum tummy. The material is so soft and keeps my temperature just right when I'm running. I love the colour. Love them!
They don't fall down!
Super fitting leggings, definitely squat proof and don't fall down when I run, even when the pocket has a phone in it. Pocket is a good size but not big enough for my HTC U Ultra but fits a smaller iPhone 8 fine. Would be nice if they came in brighter colours or with more reflective detail for running on the road.
clothing
brilliant, they fit lovely and are so comfy xx
Excellent
Excellent value for money. Very good quality. Love the texture of the material used for the vest top. Leggings marginally long (5'2"), but not a big issue. Very prompt delivery, and response to queries. So pleased with my first order I have now ordered long sleeve top.
Better than expected!
Initially when I received my order I thought they felt different to how I imagined they would feel but upon wearing them and using them for yoga and running and general wear in the house they are the contest leggings! Great for all types of exercise! Light material but they also keep me warm on cooler days whilst still being breathable on my longer runs! Great value for money!